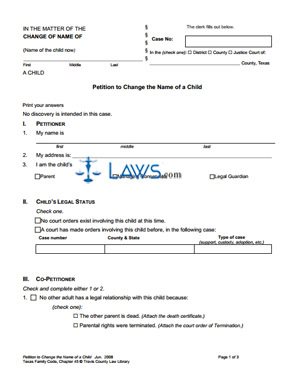 INSTRUCTIONS: NAME CHANGE MINOR PACKET
A legal parent, guardian, or conservator can change the name of a minor child. This packet should only be used if both parents agree to the change of name. If the child over 10 years old, they need to agree to the change of name in writing as well.
"Name Change Minor Packet Step 1"
Complete all sections of the captions on the forms except for the case number. In section 1 of the Petition, provide the full legal name of the Petition along with their address and relationship to the child.
"Name Change Minor Packet Step 2"
In section 2, check the appropriate box and list any information about pending court orders. In section 3, check either box and provide the necessary information. In part 4, provide the requested name of the minor that each parent has agreed on. Provide reasons for the name change in part 2.
"Name Change Minor Packet Step 3"
In part 5, provide the current legal name of the child, their home address, social security number, driver's license number (if applicable), date of birth, gender, place of birth, and sex offender status. If the child is a registered sex offender, a Sex Offender Update needs submitted to local law enforcement.
"Name Change Minor Packet Step 4"
Each parent needs to sign the Petition and have the form notarized. Again, if the child is over 10 years of age, they need to sign the Child's Consent to Name Change form.
"Name Change Minor Packet Step 5"
The Agreed Order Granting Child's Name Change needs completed except for the section for the judge's signature. The minor's name will not be changed until the judge signs this Order. While filing your forms, you need to make receive a certified copy of Order or a Name Change Certificate because the clerk's office will keep the original Order. You'll need a certified copy of the form for each change you make to a child's records, including birth certificates and social security records.
"Name Change Minor Packet Step 6"
When the minor's name is changed, the parent or legal guardian is responsible for contacting the Bureau of Vital Statistics and Social Security Office.
Comments
comments