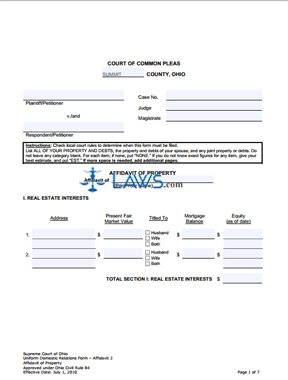 INSTRUCTIONS: OHIO AFFIDAVIT OF PROPERTY
In Ohio divorces which involve questions of alimony or child support, both parties may be required to submit an Affidavit of Property detailing all assets and debts they own singly and jointly. This Ohio Affidavit Of Property is available on the website of the Ohio Supreme Court. The example discussed in this article has the name of Summit County entered at the top but this document is valid in every Ohio county.
Ohio Affidavit Of Property Step 1: At the top of the form, enter the names of the petitioner and respondent, the county you are appearing in, the assigned case number, and the names of the judge and magistrate overseeing your case. Print your name under "Affidavit Of Property."
Ohio Affidavit Of Property Step 2: Section I requires the address, current fair market value, mortgage balance and equity of every real estate property. Indicate whether the husband, wife or both own the property. Section II requires you to detail all other assets, beginning with motor vehicles in Section IIA. Include a description with the year and model of the vehicle. In all parts of the form, indicate whether an asset belongs to one of the spouses or both.
Ohio Affidavit Of Property Step 3: Section IIB requires you to list all bank accounts and their current balance. Section IIC requires you to list all pensions and retirement plans, while section IID is for stocks, bonds and similar assets. In section IIE, list any businesses you have a stake in. Indicate the current value of this stake. In section IIF, list all life insurance policies. Specify who is covered by each policy and what the value upon death will be.
Ohio Affidavit Of Property Step 4: In section IIG, list all furniture. In section IIH, give the locations and list the contents of any safety deposit boxes. In section III, list all transfers of assets from the last year. In section J, detail all otherwise unlisted assets.
Ohio Affidavit Of Property Step 5: In section III, list all assets you are laying sole claim to, such as those bought before marriage. In section IV, list all debts. In section V, list any bankruptcy cases filed by either spouse.
Ohio Affidavit Of Property Step 9: Sign and date the form before a notary public.
Comments
comments