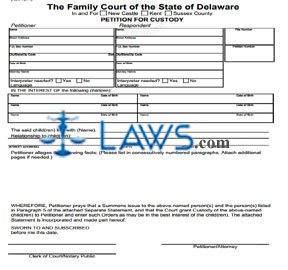 INSTRUCTIONS : DELAWARE CHILD CUSTODY PETITION (Form 345)
The Delaware Petition for Child Custody is the form required for Delaware residents seeking custody of their children through the court. This petition must be filed in order to obtain a court order for child custody in the state of Delaware.
The Delaware Petition for Child Custody can be obtained by searching online or through the state court.
Select the county under which the child custody case will take place.
1. First, you must provide all information about both the petitioner and the respondent in the child custody case.
2. State the names, address, date of birth, attorney name, and whether an interpreter is needed for both parties.
3. You should provide both the file number and petition number in the tabs on the right side of the petition.
4. List the names of the children involved in the case. Provide their name and date of birth in the boxes provided. Should you require a petition for more than 6 children, you may add additional names on a separate sheet.
5. Provide the name and address of the person the children are currently living with. You must also state the relationship this person has to the children.
6. You must list the facts of your case for the court to review. You must list them in a numbered order providing a short description of each fact. You may use the space provided on the petition or you may attach additional sheets if necessary.
7. Once completed, you must certify the petition with your signature.
8. The petition must be notarized before it is complete. Once complete, submit the petition to the court hearing the custody matter.
9. You will receive a response form the court which will indicate the court's ruling and whether additional steps may need to be taken. You may need to file additional petitions or make an appearance before the court before a decision is made.
Comments
comments