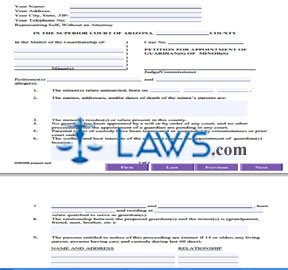 INSTRUCTIONS: MINOR GUARDIANSHIP PACKET
The following forms are required for guardianship of a minor in Arizona:
· Petition for Appointment of Guardian(s) of Minor(s)
· Acceptance of Guardianship of Minor(s)
· Notice of Hearing (Appointment of Guardian)
· Proof of Notice
· Proposed Guardian's Affidavit Pursuant to A.R.S. §14-5106 (with instructions)
· Statement Pursuant to A.R.S. §14.5651
· Affidavit Regarding Minor Children (A.R.S. §25-439)
· Information Sheet
· Consent and Waiver
· Order Appointing Guardian(s) of Minor(s)
· Letters of Guardianship of Minors(s)
· Instructions to Guardians of Minor(s)
"Minor Guardianship Packet Step 1"
An adult can only petition for guardianship in a county of Arizona if:
· The minor resides or is present in the county where the petition is filed
· Not other guardian has been appointed by will or order of the court
· No other proceedings for the appointment of a guardian are pending
· Parental rights for custody have been terminated or suspended
· Appoint of a guardian are in the best interests of the minor
"Minor Guardianship Packet Step 2"
After all of the documents are filed with the Superior Court and the guardianship has been approved by the court, the guardian has the same powers and responsibilities as a parent other than having to provide their own funds for support of the child.
"Minor Guardianship Packet Step 3"
Make copies of the Letters of Guardianship to show to schools, doctors, etc.
"Minor Guardianship Packet Step 4"
The guardianship remains valid even if the minor moves out of Arizona. Termination of the guardianship requires a court order, and the responsibility continues under the minor marries, dies, or reaches 18 years of age.
"Minor Guardianship Packet Step 5"
The appointed guardian has the following powers and duties and possibly more:
1. Make arrangements for child's good, clothing, and shelter
2. Arrange the child's educational, social, and religious activities
3. Authorize medical care and other professional care or treatment
4. Consent or refuse consent for the child to marry
5. Consent to the minor acquiring a driver's license
6. Initiate a conservatorship through court order if necessary
7. Receive money from the parents, public benefits, or private sources of at least $10,000 or another amount set by the court
"Minor Guardianship Packet Step 6"
The guardian must notify the court immediately if the minor's address changes.
Comments
comments